Winter 2022 Program Guide
Weaving Unity: Centering Decentered Voices
JANUARY – MARCH 2022 PROGRAM GUIDE
To receive this newsletter over email, sign up here.

While the continued pandemic has meant a slowing of in-person events, artists are resilient and have found new ways in which to flourish. Weekly, engaging discussions during Creative Roundtables, online gatherings for exclusive behind the scenes artist studio visits, international Borderless premieres, Beloved Chorus masterclasses, as well as the rare, yet joyous in-person gatherings, are all working together to strengthen our bonds and accomplish what a year ago seemed next to impossible.
We are now starting to be able to welcome artists from across seas and distant borders; reaffirming that we are a community with like ideas and common goals. Through the arts, wellness can be found.
In the coming months I look forward to artists' response to Weaving Unity: Centering Decentered Voices, our framework for exhibitions this year.
These are the words I reflect on often—weaving unity. How can we continue to grow the tapestry that makes us a whole… the weft and warp strands that intertwine to build upon accomplishments and relationships… the continual growing of a community so we can feel a societal completeness?
Together…
Together is the way we will continue to weave unity. Through the collective power of 'together' we will furnish our shared home with tapestries as far as the eyes can see.
Tom Norris
Residency Coordinator
CALENDAR OF UPCOMING EVENTS
Manos a la Obra Pop-Up Artisan Market / Closing Celebration + Curator walkthrough
Saturday, February 5, 2022 | 11 AM – 3 PM
18th Street Arts Center (Airport Campus)
3026 Airport Ave, Santa Monica, CA, 90405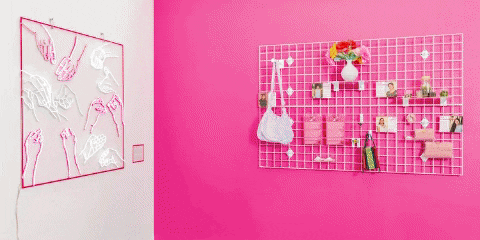 Join us for a community celebration of craft and art at the Manos a la Obra Pop-Up Artisan Market! The market will feature different products produced and/or sourced by local artisans who have been collaborating with artists Cog•nate Collective to establish a community-led public market in Santa Monica. Purchase handmade artisanal crafts and view the exhibition Manos a la Obra in 18th Street Arts Center's Propeller Gallery. Also on view will be Weaving Unity, on view in the Slipstream Galleries. Expect artisanal goods, exhibitions, open studios, and more!
Plus, join Frida Cano, 18th Street Arts Center's Director of Exhibition and Residency Programs, in a tour of Cog•nate Collective | Manos a la Obra and Weaving Unity at 1:00 PM. Space is limited, sign-ups will be available at the door.
This is an in-person event, and masks are required at all times (regardless of vaccination status) to keep our community safe. Please be sure to register in advance.
Sam Francis: Santa Monica and a Legacy of Supporting Artists
A Documentary Series from filmmaker Tiana Williams
Friday, February 25 | 12 PM | Online Premiere
Tune into a three episode documentary series about Sam Francis and his connection to Santa Monica. This series, presented by 18th Street Arts Center in collaboration with the Sam Francis Foundation, will launch on February 25, 2022 at noon as a livestream and on-demand video launch.
Artist Sam Francis kept several studios and homes on the West Side of LA over the 60s, 70s, and 80s, which was an exciting era of artistic exploration and production in Santa Monica. By delving into extensive archives and conducting rare interviews with two of Francis's sons and extended network, filmmaker Tiana Williams created a three-episode documentary series, focusing on Francis's family home (Canyon Roots), his influence on emerging artists, printmakers, and curators (Fostering the Arts), and his interest in C.G. Jung and dreams (Dreams).
The films will be broadcast on 18th Street's Facebook page and on our website on Friday, February 25 at noon and will be available as on-demand videos. Register above to get a reminder!
Christopher McBride | Make Jazz Culminating Concert
Saturday, March 26, 2022 | 7 PM
Livestream from The World Stage
18th Street Arts Center is pleased to present a culminating concert of new compositions from alto saxophonist Christopher McBride, live streamed from the World Stage in Leimert Park on March 26, 2022 at 7 pm. As 18th Street Arts Center's 2022 Make Jazz Fellow, McBride brings his dedication in creating stories for the audience through soulful and melodically indelible tunes to a new body of work he will create while in residence at 18th Street Arts Center. These never-before-heard compositions will be live streamed from the World Stage in Leimert Park on March 26. Register to get a reminder! The livestream of the concert will be available on 18th Street's website and Facebook page.
This concert and Christopher McBride's 18th Street Arts Center residency is generously supported by the Herb Alpert Foundation.
NEW ARTISTS IN RESIDENCE
Giuseppe Stornello was born in Sicily in 1992, and studied Visual Art at the Brera Academy with a degree thesis entitled "Pulp Art" earning full marks. Using unconventional materials such as clay, confetti, streamers, stickers, etc., Stornello surrenders control of the final appearance of the artwork to unpredictable results. He contrasts high culture with popular culture through gestures of irreverence and irony. Producing work in a variety of mediums—photography, video, sculpture, and installation—Stornello has said his art could be called "ignorant existentialism".

Learn more here.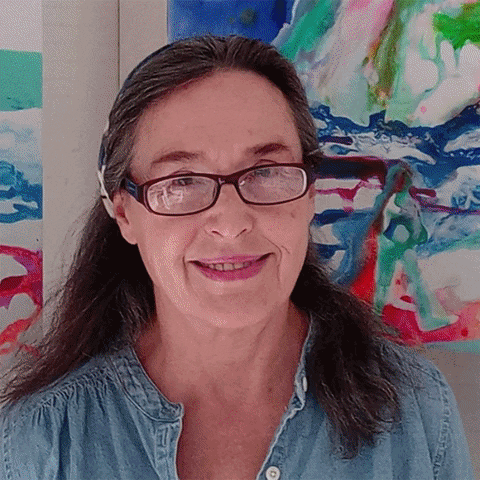 Brooke McGowen
Visiting Artist | California
January 1-31, 2022

Brooke McGowen is an artist based in Northern California whose practice entails the loose application of paint to evoke figurative forms and landscapes. The flowing interaction of bright colors alludes to an abstracted landscape, leaving much to the viewer's imagination. Fluid pigment swirls and intertwines at will, following the principles of Fluid Dynamics. This seemingly random flowing paint, in conjunction with a figurative scene, offers new possibilities of experience for the viewer.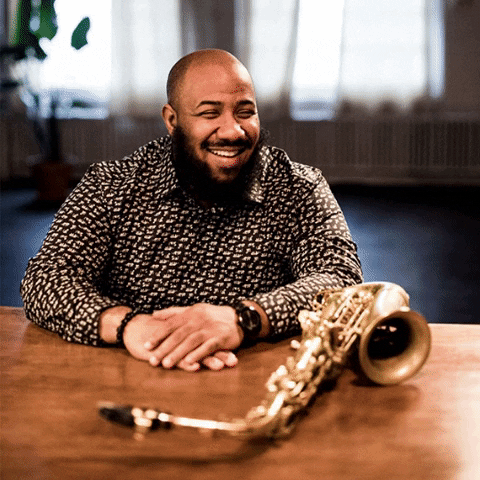 Christopher McBride
2022 Make Jazz Fellow | New York
January 1 – March 31 2022
Christopher McBride is a saxophonist based in Harlem whose work includes education, arranging and composition in addition to performance. He has been slowly but steadily turning heads with his ubiquitous work as an invaluable sideman since the mid-aughts. Now Christopher is gaining respect amongst fans, critics, and his peers as one of the most versatile saxophonists in the world. Applauded for his ability to play in all musical situations, McBride has the ability to unleash a fiery attack and serrated tone, as well as more measured, mellow sounds.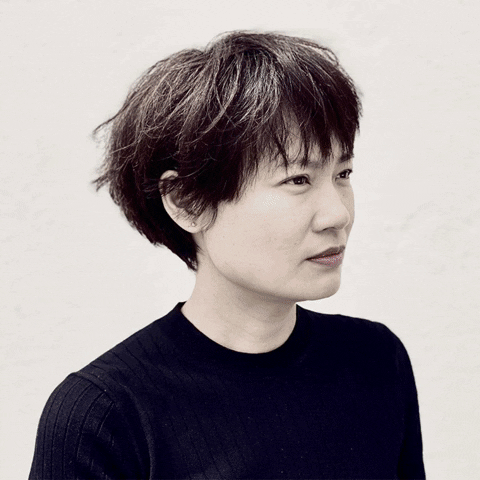 Nung-Hsin Hu
Visiting Artist
January 15 – February 15, 2022
Nung-Hsin Hu is a Taiwanese born visual artist and a museum worker. As an interdisciplinary artist, Hu's practice interweaves video, performance, sculpture and installation. She intends to reveal the invisible status, articulate the unconsciousness, and perform the vulnerability through her practice. She often develops the concept through the lenses of psychology and physiology to reflect her investigation, suspicion, and confrontation with her surrounding environment and phenomena. Her current projects utilize analogue film and projectors combining traditional and direct film-making to address a sense of loss and to archive the ephemeral.
Lisa Weiss is an artist based in the Southern United States. Her practice includes mixed media, collage, painting, and drawing. Weiss' work explores flow consciousness through mark making, patterning, gesture, momentary awareness while paring down to essentials. She is interested in meditative states of being and their relationship to non-objective, imperfect, and evolving forms. Her paintings are inspired by architecture, primitive art, symbols, metaphysics, and the practice of yoga. She is concerned for the state of the earth, the feminine wave, and the slow revolution of expanding consciousness.

Learn more here.
Amy Ahlstrom is a textile artist. Based in the San Francisco Bay Area, her practice involves designing her quilts digitally, printing patterns and cutting images by hand. The images are fused onto fabric and quilted using hand-guided machine quilting; Ahlstrom "draws" on the quilt with thread, moving the quilt beneath the needle. Ahlstrom's pop-art style is influenced by her experience with silkscreening and her background as a graphic designer and comic book illustrator. Her current work references living with anxiety and depression.
alex cruse
Visiting Artist | California
March 1-31 2022
alex cruse is an interdisciplinary artist and writer living in Oakland, California. Since 2016, cruse has worked as Gallery Curator for Artists' Television Access, a 2019 grant recipient from The Andy Warhol Foundation for the Visual Arts. cruse is also the curator/convener of Rick Prelinger's Lost Landscapes of Oakland archival film project. In 2019, she was a Signal Culture Researcher in Residence, where she developed a project on machine vision and subjectivation within contemporary art practices. cruse forms half of DROUGHT SPA, with Kevin CK Lo. Using video, iterative visuals, text, movement, stochastic synthesis, and computer vision, among other modes, they explore the political economy of new media and human/nonhuman entanglement, among other topics.

Learn more here.
Giuseppe Stornello was born in Sicily in 1992, and studied Visual Art at the Brera Labkhand Olfatmanesh is a multi-disciplinary artist examining topics of border, race, and isolation. As an Iranian artist living in the diaspora, the value of diversity and intersectionality has always been very close to her heart and her creative practice. Photography, documentary with experimental style of filmmaking and facilitating conversations among disparate immigrant communities allow her to fill in missing, multi-faceted expressions of narratives. Her work interrogates her identity as an Iranian and an immigrant in the U.S. while centering themes of feminism and social and cultural norms. She believes her role in this encompasses many facets of what it means to be an artist: researcher, risk-taker, storyteller, and community organizer.

Learn more here.
ARTISTS AT WORK
Artists at Work brings togethers artists with cultural and community-based organizations to address deeply rooted economic and social issues laid bare by the COVID-19 pandemic. As a Culture Hub, 18th Street Arts Center will collaborate with artists Maru Garcia and Marcus Kuiland-Nazario and their respective partnerships. As the artists' projects come to fruition throughout the year, we will update you on their research, artistic process, and any other related engagements. For more information on the artists project, read this blog post.
Maru García is a Mexican transdisciplinary artist, curator, and researcher based in Los Angeles. Her use of media includes research, installations, performance, sculpture, and video, often relying on the presence of organic matter to help viewers understand the biological processes occurring in complex systems. Her areas of interest are explorations on biosystems, interspecies relationships, and the capacity of living organisms (including humans) to act as remediators in contaminated sites. Her work highlights the importance of eco-aesthetics, where relationships and community are proposed as a way of building cultures of regeneration.
Los Angeles native Marcus Kuiland-Nazario is an interdisciplinary artist, performance curator and producer. He is a founding artist of 18th Street Arts Center and Highways Performance Space as well as co-founder of Oficina de Proyectos Culturales, a contemporary art center in Puerto Vallarta, Mexico and LA Community Health Project, a harm reduction street based needle exchange program. Kuiland-Nazario's works are long-term research based cross-genre projects exploring extreme states of emotion such as grief, anger and loss influenced by the cultural and spiritual traditions of the African Diaspora.
EXHIBITIONS
Enjoy past and current exhibitions here.
UPCOMING:
propagaciones radicales/ radical propagations
A group exhibition curated by Maru Garcia
Participating artists: Alberto Tlatoa, Lucia Monge, Rashonda, Rebecca Youssef, Yrneh Gabon
Propeller Gallery
March 21 – July 30, 2022
Just as a plant is propagated by splitting and rooting, Radical propagations/ Propagaciones radicales includes the work of artists and activists whose practice focuses on the creation of regeneration spaces.
This exhibition and the research leading up to it is made possible by the Artists At Work program, a collaboration between THE OFFICE performing arts + film and the LA County Department of Arts and Culture; the City of Santa Monica, and 18th Street's generous community of donors. Many thanks also to the thought partnership of Santa Monica's Sustainable Works.
The Institute of United Minds, a manifesto driven project
Participating artists: Melinda Smith Altshuler + Susie McKay Krieser, Rebecca Youssef + Crystal Michaelson, Debra Disman + Joan Wulf, Alexandra Dillon, Daniela Schweitzer, Julia Michelle Dawson, Labkhand Olfatmanesh, Lola del Fresno, and M Susan Broussard
Slipstream Galleries
March 14 – June 4, 2022
Through collaborations among campus artists, the projects part of The Institute of United Minds are thought to be a manifesto of community connectedness amidst social isolation.
CURRENTLY ON VIEW:
Manos a la Obra
Cog•nate Collective
Propeller Gallery
October 25, 2021 – February 5, 2022
Featuring collaborative gestures with Santa Monica artisans and vendors, Manos a la Obra ponders on the establishment of a community marketplace as a platform for self-determination and collective agency.
This exhibition is made possible by the City of Santa Monica, the Los Angeles County Department of Arts and Culture, and 18th Street Arts Center's generous community of donors.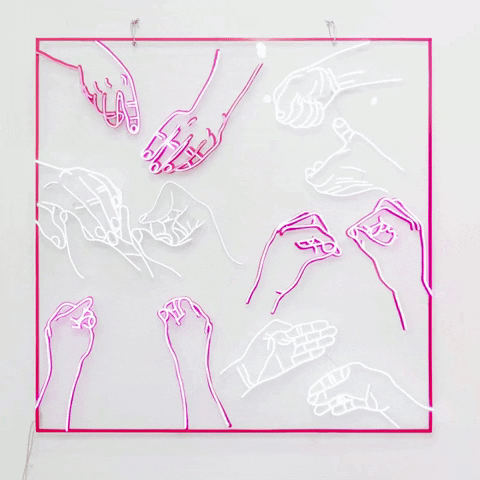 Weaving Unity
Curated by Frida Cano
Slipstream Galleries + Glider Wall
November 1, 2021 – February 5, 2022
Bárbara Santos, Claudia Concha, Ni'Ja Whitson, Enid Baxter Ryce, Iva Jankovic, Antonio José Guzmán
Weaving Unity highlights the knowledge of our human and non-human ancestors in contemporary visual artworks by creators from around the globe, tracing the invisible connections between the past and the present, and envisioning an interconnected future. The selected projects in this exhibition seek to draw connections between Indigenous Knowledge and contemporary Western cultures.
This exhibition is made possible by the City of Santa Monica, the Los Angeles County Department of Arts and Culture, and 18th Street Arts Center's generous community of donors.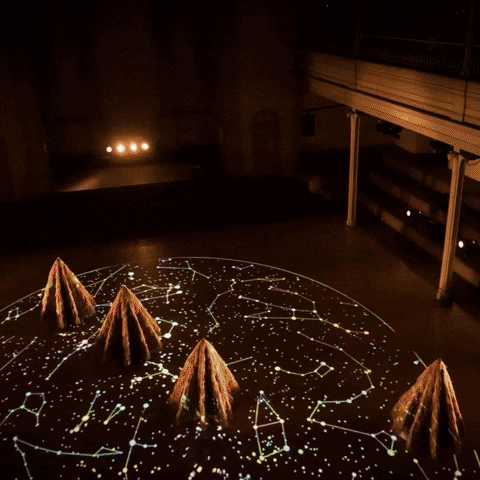 ARTISTS IN RESIDENCE PROFESSIONAL DEVELOPMENT AND STUDIO VISITS
18th Street is excited to continue and expand our Professional Development and Studio Visit programs for our artists in residence. This quarter we will be hosting Studio Visits and Professional Development sessions with Marcus Civin, Assistant Dean at School of Art, Pratt Institute; Ara Oshagan, artist and curator at ReflectSpace Gallery; and Beckly Koblick, Director at Altman Siegal. Kim Garcia, Elizabeth Stringer, and Amy Mackay will guide us for a Group Practice session titled "Art On Your Own Terms" in February. Finally, curator Anuradha Vikram will join us for a Creative Roundtable on NFTs at the end of March.
To be an artist in residence at 18th Street Arts Center, apply here.
Professional Development and Creative Roundtable sessions are also accessible to Borderless members on the Artist Professional Tier and above. Become a member here.
Borderless is 18th Street Arts Center's special membership program on Patreon. As a member, you get access to exclusive Borderless program content and events, including recordings of past programs, like an introduction of the visual art scene in Yogyakarta, Indonesia by artist Mella Jaarsma, founder of Cemeti Institute, and an introduction to Lebanon's visual art and design scene, organized by House of Today. In addition, members get access to Borderless+, a full color print of 18th Street Arts Center's catalogue, access to professional development workshops and trainings for artists, exhibition tours, and more!
Learn more about Borderless and each level's perks here: https://www.patreon.com/18thstreetarts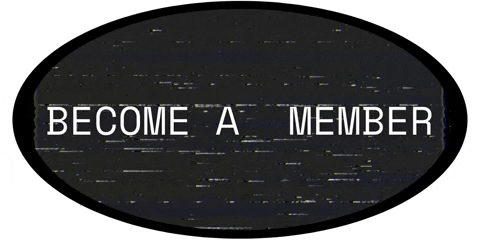 Thank you to our generous supporters!
City of Santa Monica
Art of Recovery, an initiative of the City of Santa Monica Cultural Affairs
Pico Improvement Organization (PIO)
Los Angeles County Department of Arts and Culture
Herb Alpert Foundation
Danish Art Foundation
18th Street Arts Center's generous community of donors