April – May 2021 Program Guide
We are bringing to you our second program guide after the pandemic started, which details all of our programs (virtual for the time being) over the next two months. We will continue to send out these guides digitally every quarter. It's hard to plan ahead these days, but we are dedicated to continuing to bring you a steady diet of interesting art, community engagement, dialogue, and cultural resources. Here's what we have planned this quarter.
To receive this newsletter over email, sign up here.
Recovery Justice: Reimagining the City
In March of last year, 18th Street Arts Center closed our doors, cancelling our exhibitions, parties, workshops, performances, and in-person meetings. In the coming weeks we would begin to work remotely; learning new ways to share time, share space, and help support our families, friends, and neighborhoods. We continue to miss our in-person interactions and time spent together, but we have grown new communities, discovered new ways to spend time with old friends, and found out that so many things we thought were impossible were just a turn away.
In this turn, 18th Street has launched several online initiatives: virtual exhibitions, 360 exhibition tours, digital archives of public programs, online workshops, Spanish language interpretation for public programs, and virtual screenings and performances. Now as we cautiously reopen our doors, begin to plan hybrid-in-person events, and return to our offices, we must all ask: can we continue to share our work and time with our new communities and still return to supporting the old? Will we continue to share digitally? Will we continue to archive our work online? Offer programs in multiple languages? We hope to keep the best things we have learned from this last year and build them into what we used to do. 18th Street will continue to prioritize access and sharing our work with guests that were not able to join before.
This quarter we are excited to share the generous ideas of artists who continue to explore ideas around access and public space. Elana Mann's exhibition Year of Wonders, redux and its accompanying event Hungry Ears: A Panel with Naomi Okuyama, April Banks, Sara Daleiden, and Elana Mann will consider how artists and arts administrators can be key community organizers in movements for social change. As part of Recovery Justice: Being Well and our partnership with WeRise.LA, Dan S. Wang will host Together in Contradiction: Asian American Unity Now, a round table discussion on culture work and solidarity politics in an age rising xenophobia, gentrification, and political contradiction. Suchi Branfman will present Undanced Dances Through Prison Walls During a Pandemic, sharing dances produced by members of the California Rehabilitation Center and hosting a conversation following the screening. Lastly, Make Jazz Fellow, Paul Cornish, will culminate his residency with a virtual concert, presented by the World Stage, reflecting on the question "How do you make community during a pandemic?"
We hope you will join us in the coming months and help us continue to turn towards creating more access and places (both digital and in real space) where we can share time together.
Michael Ano
Director of Public Programs and Engagement
CALENDAR OF UPCOMING EVENTS
Hungry Ears: A Panel with Naomi Okuyama, April Banks, Sara Daleiden, and Elana Mann
Thursday April 8, 2021 @ 5 – 6 PM
Online: Register here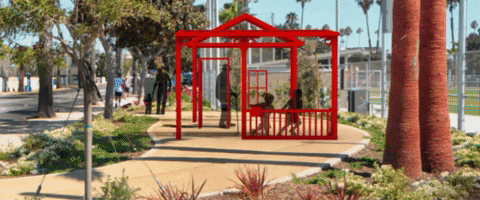 Hungry Ears is a virtual panel that will examine ongoing art and equity issues in Santa Monica. This conversation will consider a number of local projects including the Belmar History + Art public art project by April Banks; Lives that Bind, an exhibition at Santa Monica City Hall; and the Art of Recovery initiatives, one of which will be taking place at 18th Street Art Center. This conversation considers how artists and arts administrators can be key community organizers in movements for social change.
This panel is part of Elana Mann's solo exhibition at 18th Street Arts Center's Airport Gallery titled Year of Wonders, redux, on view from March 29 – July 2, 2021.

Register here
Undanced Dances Through Prison Walls During a Pandemic | Screening and Conversation with Suchi Branfman and Tom Tsai
Friday, April 16, 2021 @ 6:30 PM – 8 PM
Online: Register here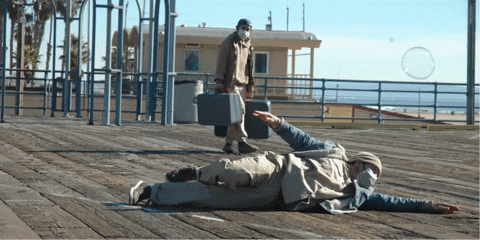 In 2016, choreographer and educator, Suchi Branfman, began a five-year choreographic residency inside the California Rehabilitation Center, a medium-security state men's prison in Norco, California. The project, dubbed "Dancing Through Prison Walls," developed into a critical dialogue about freedom, confinement, and how we survive restriction, limitations, and denial of liberty through the act of dancing. The project abruptly ended in March 2020, when the California state prison system shut down programming and visitation due to Covid-19. The work was rapidly revised, and the incarcerated dancers began sending out written choreographies from their bunks to the outside world. The resulting collection of deeply imagined choreographic pieces, written between March and May of 2020, was dubbed Undanced Dances Through Prison Walls During a Pandemic.
Highlighting six dances written/choreographed inside the prison by Brandon Alexander, Richie Martinez, Landon Reynoldsand Terry Sakamoto Jr., this event hosts a conversation and film of the work transformed into embodied dances in sites throughout the Santa Monica civic center area, highlighting the nation's school to prison pipeline.
This project was made possible by Art of Recovery, an initiative of Santa Monica Cultural Affairs.

Register here
May 15, 2021 at 11 AM- 12:30 PM
Bookmaking with Self-Compassion | Debra Disman
Online: Register here

Make an artist book celebrating your own creative growth.
Join 18th Street Arts Center artist in residence and bookmaker Debra Disman to discover how to create the beautiful, fun and versatile Flower Fold book into which you can write or paste wishes, hopes, prayers and dreams. This book can become a chain to hang in your home, or give as a gift. Explore what the pandemic has meant to you while learning new skills and creating a unique expression of renewal and rebirth during the spring season.

Register here
May 22, 2021 at 11 AM – 12:30 PM
Let Suffering Speak | Elana Mann
Create your own sound sculpture for healing self-expression.
Online: Register here
Join artist Elana Mann in letting our voices and bodies rumble, clatter, and blast. Participants will learn how to make musical instruments and megaphones using simple household materials. Discussion and exercises will focus on how mindful listening to ourselves and each other is key to wellness. The workshop will culminate in group listening and sound-making.

Register here
The ALL@HOME workshops as part of Recovery Justice: Being Well are generously supported by the WE RISE LA program.
Partners include the Community Clinics Association of Los Angeles County (CACLAC), St. John's Well Child & Family Center, and the Community Corporation of Santa Monica.
VISITING ARTISTS IN RESIDENCE
EXHIBITIONS ON VIEW
Enjoy past and current exhibitions here: https://18thstreet.org/exhibitions/
Our Spring exhibitions will be open to appointments starting March 29. Appointments are available Monday – Friday at 10am, 1pm, 2pm, and 3pm. Sign up for an appointment here.
ARTISTS IN RESIDENCE PROFESSIONAL DEVELOPMENT AND STUDIO VISITS
18th Street is excited to continue and expand our in-person Studio Visit and Professional Development programs for our artists in residence. Last quarter we had Shoghig Halajian, Nick Barlow (Hammer Museum), Melinda Guillen, and Virginia Broersma (The Artist's Office).
This upcoming quarter we have Kristan Kennedy, Artistic Director and Curator of Visual Art at Portland Institute for Contemporary Art, and Asuka Hisa, Director of Learning and Engagement at Institute of Contemporary Art, Los Angeles.

To be an artist in residence at 18th Street Arts Center, apply here.