Manos a la Obra Pop-Up Artisan Market / Closing Celebration
February 5, 2022 @ 11:00 am

-

3:00 pm
Manos a la Obra Pop-Up Artisan Market / Holiday Celebration
Saturday, February 5, 2022 | 1 1 AM – 3 PM
18th Street Arts Center (Airport Campus)
3026 Airport Ave, Santa Monica, CA, 90405
Join us for a community celebration of craft and art at the Manos a la Obra pop-up Artisan Market! The market will feature different products produced and/or sourced by local artisans who have been collaborating with artists Cog•nate Collective to establish a community-led public market in Santa Monica. Purchase handmade artisanal crafts and view the exhibition Manos a la Obra in 18th Street Arts Center's Propeller Gallery. Also on view will be Weaving Unity, on view in the Slipstream Galleries. Enjoy a festive atmosphere as you support local craftspeople and artists! Expect artisanal goods, exhibitions, open studios, and more!
Plus, join Frida Cano, 18th Street's Director of Exhibition and Residency Programs, in a tour of Cog•nate Collective | Manos a la Obra and Weaving Unity at 1:00 PM. Space is limited, sign-ups will be available at the door. 
This is an in-person event, and masks are required at all times (regardless of vaccination status) to keep our community safe. Please be sure to register in advance.
You can learn more about each of the artisans at marketexchange.18thstreet.org and purchase their products online for all of your gifts.
For more information about the exhibition Cog•nate Collective | Manos a la Obra : https://18thstreet.org/event/manos-a-la-obra-cognate-collective/
Participate in #MarketExchange by telling us a story about your favorite marketplace memory, or if you are an artisan, let us give you a shout out! All participants will be entered into a raffle and the winner will get a bundle of Market Exchange products! Deadline for this is Saturday, February 5! To enter, tag us @18thstreetarts or #MarketExchange with your response on social media! You can also fill out this form!
Manos a la Obra Pop-Up Mercado Artesanal / Celebración de Clausura
sábado, 5 de febrero de 2022 | 11AM a 3PM
18th Street Arts Center (Campus del aeropuerto)
3026 Airport Ave, Santa Mónica, CA, 90405
¡Únete a nosotros para una celebración comunitaria de artesanías y arte en el mercado artesanal Manos a la Obra! El mercado contará con diferentes productos producidos y / o adquiridos por artesanos locales que han estado colaborando con les artistas de Cog•nate Collective para establecer un mercado público dirigido por la comunidad en Santa Mónica. Compra artesanías hechas a mano y ve la exposición Manos a la Obra en la Galería Propeller del 18th Street Arts Center. También estará a la vista Weaving Unity, a la vista en las Galerías Slipstream. ¡Disfruta de un ambiente festivo mientras apoyas a los artesanos y artistas locales! ¡Espere productos artesanales, exposiciones, estudios abiertos y mucho más!
Únete a Frida Cano, directora de programas de exhibición y residencias de 18th Street, en un recorrido por Cog•nate Collective | Manos a la Obra y Weaving Unity a la 1:00 pm. El espacio es limitado, las inscripciones estarán disponibles en la entrada.
Este es un evento en persona y se requiere uso de cubrebocas en todo momento (independientemente del estado de vacunación) para mantener segura a nuestra comunidad. Por favor, asegúrate de registrarte con antelación.
Puede obtener más información sobre cada uno de los artesanos en marketexchange.18thstreet.org y comprar sus productos en línea para todos sus regalos.
Para más información sobre la exposición Cog•nate Collective | Manos a la Obra :
https://18thstreet.org/event/manos-a-la-obra-cognate-collective/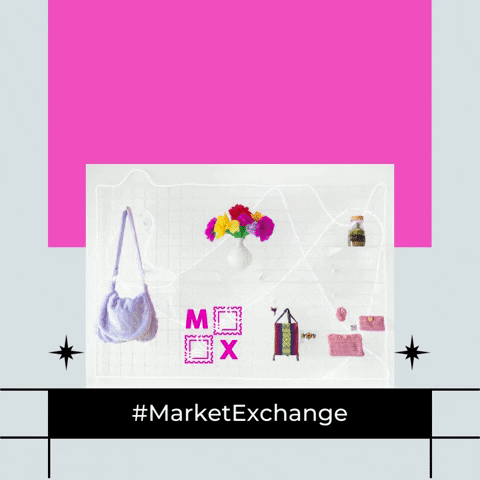 Participe en #MarketExchange contándonos una historia sobre su memoria favorita de mercados, o si usted es un artesano, déjenos darle un grito! Todos los participantes se inscribirán en una rifa y el ganador obtendrá un paquete de productos Market Exchange! ¡La fecha límite para esto es el sábado 5 de febrero! ¡Simplemente etiquétenos @18thstreetarts o #MarketExchange con su respuesta en las redes sociales! ¡También puede llenar este formulario!